Instagram is a visual-first social media platform owned by Facebook. It has one of the highest userbases out of any social media platform with over 1 billion monthly active users as over 2021.
Find more statistics at
Statista

Instagram can be hard for indie games to get a foothold on, but its massive userbase and ease of uploading can be a very useful asset in your marketing plan, especially with its move towards video.
---
Why Instagram?
As I said before, Instagram is one of the most actively used social media platforms and has a wide array of users. It also offers multiple ways to share your content, such as images, videos, or Instagram TV.
Pros:
Multiple media types (images, short videos, longer videos)
Mobile-heavy
Ability to use lots of tags without it hindering your posts
Cons:
Media types have to fit their size and length requirements
Mobile-heavy
Linking is much harder
You must be stay very active on the site to increase your placement in the algorithm
One thing to keep in mind is that Instagram is a very visual-heavy medium, moreso than other platforms. Aesthetics and nice visuals are a key part of Instagram. If you make character-focused games, then good! Use the characters as a means of showing off the game.
Posting – Message
Instagram descriptions have a lot of room to write in! You can write up to 2,200 characters in the description of a post, including tags. Because of this, some people will write paragraphs about the post itself, how their week went, any upcoming events, etc. For games, we can use the post description as a mini-devlog or to tell followers about progress for the week.
The description doesn't have to be several paragraphs long, though- a few sentences to a paragraph is fine.
Posting – Tags
If you're unaware, hashtags are a function on social media platforms that allows users to search for similar content easily. Instagram is certainly no stranger to using tags, as it encourages users to use 15+ tags per post!
How many tags?
Most people seem to agree that Instagram doesn't penalize users for using lots of tags, as long as they're not the generic, overly used ones (such as #art, #love, #food, etc.). There's a limit of 30 hashtags per post, and while I think it's pretty tricky to find that many tags to use, it does help to use more tags.
So, use more than 10!
Which tags?
As not all of my games are the same (some are otome, some are dating sims, some are boys love, some are yuri) and not all of your posts will be the same (sometimes you might post backgrounds with no characters, other times you might post speedpaints, etc.), you'll end up using a variety of tags.
Don't just copy paste the same tags from post to post without adding/removing any! Think about what's fully relevant to the post in front of you. If each of your posts can use the exact same tags, then you need to vary up your content more.
Here's some examples of the variety I use:
Because this post is focused on 1) the artwork and 2) the game releasing, I use tags that go with that- artwork tags and gaming tags. While Asterism does have a boys love element to it, this post doesn't really show that off. However, for a more romantic piece I'd tag it as such.
While Kotachi and Ophi are from my game Asterism, this post isn't about that- it's an artwork that just happens to feature my game characters. So I make the tags reflect that, though I could have added a few like #visualnovel.
We can also use sites like All Hashtag to find similar tags to use. Here's some it lists for #otome.

Don't just copy paste these into your description, research them first! Some of these might not be appropriate for your post.
Why tags?
How else are users going to find and be recommended your posts? Use tags!
Posting – Images
A typical Instagram post is a 1080×1080 square. This is the default crop for posts.
Instagram landscape posts are 1080×608. These are longer but don't take up as much space on the feed, so they can be harder to grab people's attention.
Instagram portrait posts are 1080×1350 (4:5). These are taller and almost take up the entire screen on mobile (including the description) so these are easier for catching people's eyes.
Note that posts don't have to be one of these three sizes, these are just the default crop sizes (though posts can't be taller than 1350px). The thumbnails for posts on your profile will always be square, though.
There are several limitations to sizes and lengths (namely in regards to videos on Instagram), so be wary of these.
Posting – Videos
Videos are one of the top content pieces on social media this year and there's never been more ways to share video on Instagram. However, there's lots of limitations on how and what you can post.
Video Post
The most basic kind is to just upload a video file as a post.
Limitations:
Between 3-60 seconds
Aspect ratio between 4:5 and 16:9
These posts appear on your feed and in the new video tab. One benefit of these is that you can upload videos and photos in one post. If a video post is considered a carousel (it has a video and photo in the same post), then it only appears on your feed and not in the video tab as well.
For my keychain giveaway I had the first image in the post be a video of the keychains and the second image just a photo of the rules.
IGTV (Instagram TV)
Instagram TV was their first expansion for video content, targeting videos that are longer than 60 seconds. IGTV has now been merged with regular videos. You can have clickable links in the description for these posts.
Limitations: (from here)
Over 60 seconds long, up to 15 minutes when uploaded on mobile and 60 minutes on browser
Must be MP4 files
Aspect ratio of 9:16 or 16:9
IGTV is for much longer content and is typically used nowadays for saving live broadcasts.
On Instagram you can go live and stream from your phone. This sends a notification to all your followers with push notifs that you're live and they can join your stream. In the stream, users can comment in real time and tap the heart button. There are also other features such as letting other users go live with you, but I've only watched live streams rather than try one myself.
As for IGTV itself, I mainly use it sparingly for longer content, namely trailers. As said before, you can include links in the description of these longer video posts that people can actually open.
With Instagram Reels, I find it's much better to dice up content and post it to Reels instead.
Instagram Reels
Ah, Instagram Reels, their totally not copy cat attempt at Tiktoks. I actually like Instagram Reels- they're an unpredictable way to get a lot of views or completely fall flat.
People have described Tiktoks as "a chance in the viral lottery every time you upload a video", but I feel like Instagram Reels are that on steroids. From my experience with them on both my personal and studio accounts, they can either fall flat with 30~ views or hit 1k in a matter of minutes.
To give a bit of clarity on why this is- this isn't based on your followers, but rather the IG algorithm for Reels, where it shows off your Reel to a group of people based on the tags you use. The algorithm and functions seem to be very similar to Tiktok's, however, remember we're still on Instagram. And what does Instagram's description let you do?
Oh yes, you can put up to 30 tags on it.
With the right tags targeting your niche with the right video content, you can easily get 3k+ views on each Reel (with the downside that some will just fall flat- it's a gamble!).
For instance, this Reel landed me 100+ likes and over 5 new followers- pretty great for a post that took me maybe 15 minutes to record and upload (and I can repost it to Tiktok).
Meanwhile this Reel I uploaded the next day barely gained any traction.
Let's quickly go over the limitations of them.
Limitations:
Up to 60 seconds long
Must be recorded & uploaded in app (videos from outside can be used)
Images with watermarks (i.e. the Tiktok watermark) are "deprioritized" in their algorithm*
* I've seen popular Reels with the Tiktok watermark on them (which happens when you upload a Tiktok and download it), however there are lots of sites out there to remove the watermark from any Tiktok and download it
I talked about my process for making Instagram Reels (and reusing them for Tiktoks) in my article here, so read that if you'd like to know more on how to make them.
If you're going to use Instagram, absolutely use Instagram Reels. IG is a platform that boosts users who use their new features and Reels is absolutely it. Not to mention the great views you can easily get on your project.
Reels Advice:
Short is king. Video is king, but short, replayable videos are even better. Thanks to Reels, I don't make Tiktoks that are longer than 30 seconds anymore- after all, most people don't watch past the first 5 seconds. Have 1 idea, have a hook, and get to the point.
Don't stress. Have an idea for what you want to make and record it. Remember, we're indies, not AAA studios. Don't try to make overly polished videos- as you see, me holding a phone to my screen has gotten 3k+ views several times.
Mess around and try new things. I love having a personal account because it lets me play around with features and get comfortable with them. Reels are intimidating because they're new. Play around with the features and watch some other Reels to get an idea of how to make them.
Record once, post twice. I record my videos directly in Instagram Reels, save the video file, upload to IG Reels, and then upload that video to Tiktok. It's not watermarked so I just slap some different music in the background in-app and a new description. Viola, you have 2 social media posts.
Don't post all your tags in your caption. IG has, at least as long as I've known, allowed users to post tags in the first comment on their posts and the post will show up in those tags as well. This seems to be true for Reels as well. As the Reels description will cover up the video itself, this is very helpful for not covering it up (and allowing you to put actual meat in the description).
Post a couple times a week at least. Think of Reels as side posts for now, as none of us can dedicate all our time to just one media type on one platform. I try to upload a Reel every other day (typically art reveals, as those are easiest and do the best for me on average). However for you, the sweet spot may be uploading a regular post on Wednesdays and a Reel on Monday and Saturday.
Videos – Wrap-up
Video Posts:
Can be over 60 seconds long, under 15 minutes when uploaded via mobile, under 60 minutes when uploaded via browser
9:16 or 16:9 aspect ratio
IG Reels:
3-30 seconds long
Only upload via phone
Great potential for expanding your audience
Instagram Stories
Instagram Stories is sort of like Snapchat. They last for 24 hours and can be a still image or a video that anyone can view.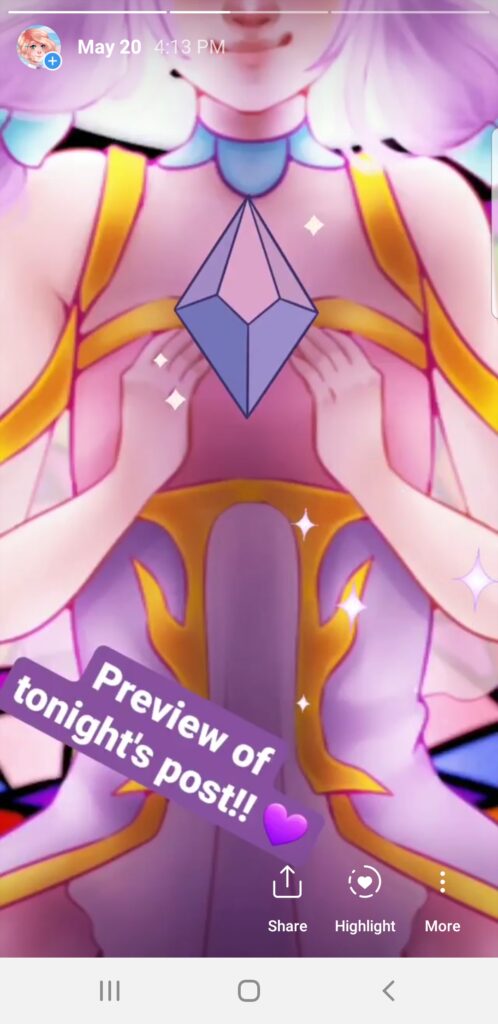 Like I said about Reels, Stories are a feature IG really wants users to use, so try to make some weekly. They can be very quick things like a shot of your workspace, a WIP, a video clip, and more, so don't think too hard about them.
Stories can have:
And more!
Yes, you heard right- Stories can have links in them! Every account can now put links in their Stories.
---
Should I use Instagram?
That's ultimately up to you. I'd recommend it if:
You're comfortable with the platform
Can make a mix of photo and (vertical) video content
Have a good grasp on how to use hashtags
Unlike Twitter where you can just type a few words and call it a day, Instagram needs visuals and you're competing with millions of other visuals. Screenshots alone won't cut it on Instagram like they might on Twitter.
If you decide to add Instagram to your marketing mix, I recommend:
Make Reels. Make regular posts, but make Reels as well. Spend a couple hours scrolling through Reels to get ideas for what you can make- it's easy to get 3k views on Reels which can be more beneficial than perfecting a single post
When you make Reels, don't strive for perfection. We're indies. Instagram users don't want to see a professional brand video, they want to see something cool that someone is making.
Post stories at least a few times a week. Stories are easy to make and can be polls, links, videos, and more.
Collaborate with similar devs. It's easier to get encouragement to post when you work with devs for similar things, whether it's discussing what's working/what's not or sharing each other's posts in Stories and such.
---
Social media in general can be frustrating. Don't jump into it expecting results immediately, or even after a few months sometimes. Marketing is not about going viral immediately, but rather the gradual and continuous growth of a brand and identity.
Before jumping into Instagram yourself, I recommend familiarizing yourself with the fundamentals of marketing.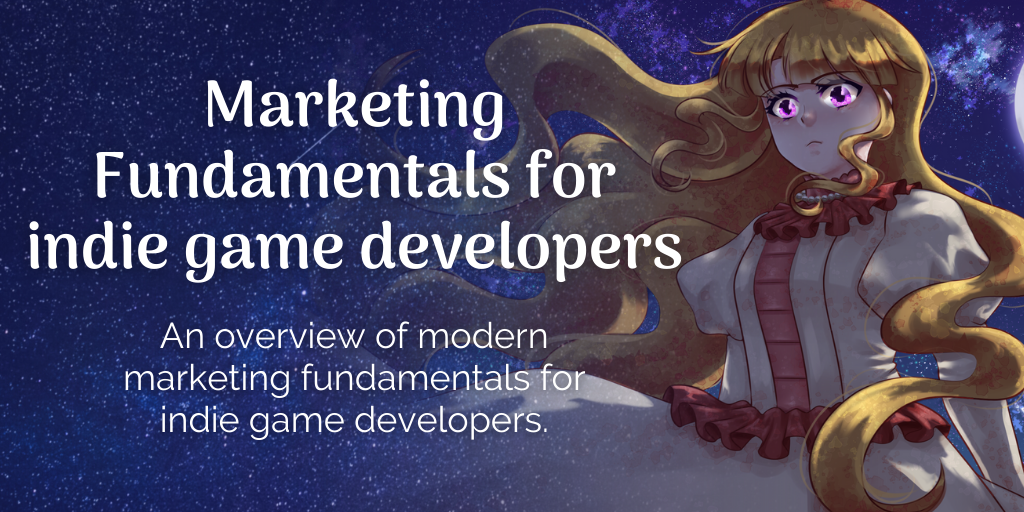 Good luck with your marketing journey! Feel free to reach out to our visual novel development server for questions.
— Arimia