Social media platforms come and go, and with them audiences shift from one to another. After the Tumblr exodus a few years ago, long-form posting became sparse again and Twitter became the haven—or hell, depending on your outlook—for those users. After Vine closed down, YouTube took in the new-found celebrities of short form comedy.
With the emergence of any new social media, marketers will flock to it to find any way to monetize it. But for the past few years, TikTok has flown under the radar of game dev marketers.
Not any longer.
Today I want to talk about how marketing indie games on TikTok is a lot easier than you might think and why you should give it a shot—it might be life-changing, as you'll see.
This article will not go over privacy concerns with TikTok and how much of your data it tracks, nor prior reports of LGBT+ content suppression. Please do your own research into the companies and policies for social media apps before diving in, especially ones as large as TikTok.
Before we get started, if you're new here then hi, I'm Arimia! I own Crystal Game Works, a visual novel studio focused on chuuni LGBT+ games, and I'm the marketing force behind Studio Élan, a visual novel studio making sapphic games. I use Tiktok to promote both of these studios.
Now let's get started ♥
---
what actually is TikTok?
TikTok is a mobile and desktop social media for sharing short vertical-format videos. Most of these videos are under 30 seconds long, but can go for up to 10 minutes. TikTok uses a hashtag format similar to Instagram or Twitter, where users have a limited amount of characters for their video descriptions and can put hashtags to specify their audience.
What makes TikTok unique is its For You Page (FYP). Imagine if the main page of Twitter wasn't who you follow, but rather an endless page of tweets Twitter thinks you'll like based on past interactions. This page allows you to scroll forever, and brings you new posts with each swipe. That's the FYP.
That sounds like hell for Twitter, but for TikTok that's the main driving force of viewership and awareness. The FYP is the main tab on TikTok- while users can swipe right to see (somewhat random) videos from people they follow, the FYP is what the app always opens up to.
TikTok's algorithm is still a mystery (like most social media platforms) but with the combination of the tagging system and the FYP, it's common to hear that "anyone can go viral on TikTok". And truly, this is the case.
Users can upload videos to TikTok via the desktop browser or the mobile app. Uploading on desktop is just drag and dropping a finished video file and adding a description.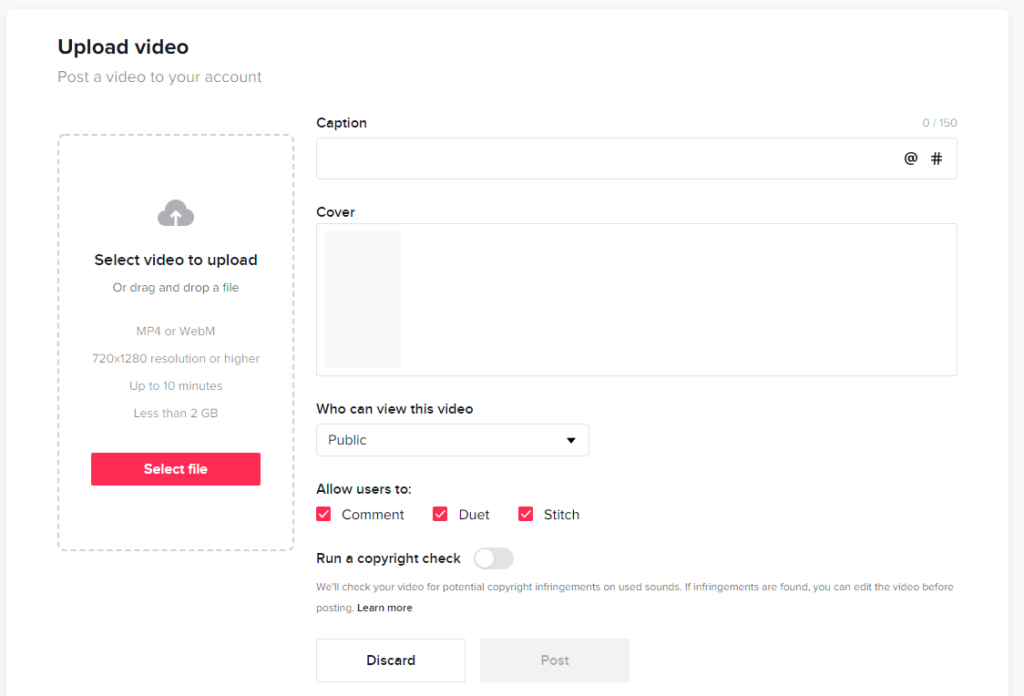 However, mobile is where the website really shines. On mobile you can upload finished videos, upload a collection of videos/photos, or record your own. The app has a full video editing suite including video trimming, adding music, using text to speech, and much more.
Thanks to features like text to speech, you don't have to show your face or your voice.
isn't TikTok just for kids?
One thing that keeps a lot of developers away from TikTok is the stigma that it's "just zoomers". However, half of the users in the United States are over the age of 30.
Find more statistics at
Statista
If you're making visual novels, chances are your age demographic is 20-30s. With over 78 million users in just the United States, it's safe to say that at least some of your audience will be there!
Some more TikTok stats:
→ TikTok has over 78 million users in the United States alone
→ over 70% of TikTok users in the United States are over the age of 18
→ over half of TikTok users in the United States are female
→ TikTok was ranked 6th in most popular social networks worldwide
how do I post about my visual novel in under 30 seconds with video?
The foundations of popular TikTok videos are cemented in the tried and true methods of appealing to people—be funny, be edgy, be honest, be relatable, or be a mixture.
With over 212k views and 42k likes, my most popular video for my own studio is a honest, very "indie" look at my visual novel I had just released, Crimson Waves on the Emerald Sea.
All of the footage was prerecorded for other videos—I just cut it all together in the TikTok app and added the text. Some of it is my phone on a stand recording me, some of it is me recording my computer screen.
With almost double the amount of views and likes—currently sitting at 394k views and 92k likes—my most popular video for Studio Élan is a simple meme-y video.
This is just me recording my Nintendo Switch with a trending audio in the background and a simple caption.
Or you could go the Perfect Garbage—developers of Love Shore—route and use a trendy audio with a funny bit about your players.
Have impressive visuals? While it's not a visual novel, this video (and his entire account!) is an amazing example of how bite-sized, visually-impressive game dev content can do wonders.
Don't have many visuals? Two and a Half Studios—the developers behind The Divine Speaker, Amelie, and more—got over 63k views and 13k likes with a video with only 1 image.
okay but how do you actually market visual novels on TikTok
Usually in my articles, I talk about my own experiences using a social media site and what I tried, what worked, etc. Today, though, I want to do something different.
To give you a more encompassing view of TikTok usage, I reached out to other devs to share their experiences using TikTok. I held a survey in Devtalk and 6 developers opted in to help with this!
---
experiences with TikTok – part 1
These developers are all visual novel devs whose follower counts (at the time they took the survey in March) ranged from 10 to 21200! I wanted to hear from both devs who'd found success from TikTok and devs who had yet to make a hit, so we can understand the frustrations and positives both groups have found.
I asked a variety of questions from these developers, so let's look at the results.
why did you decide to use TikTok to market your game(s)?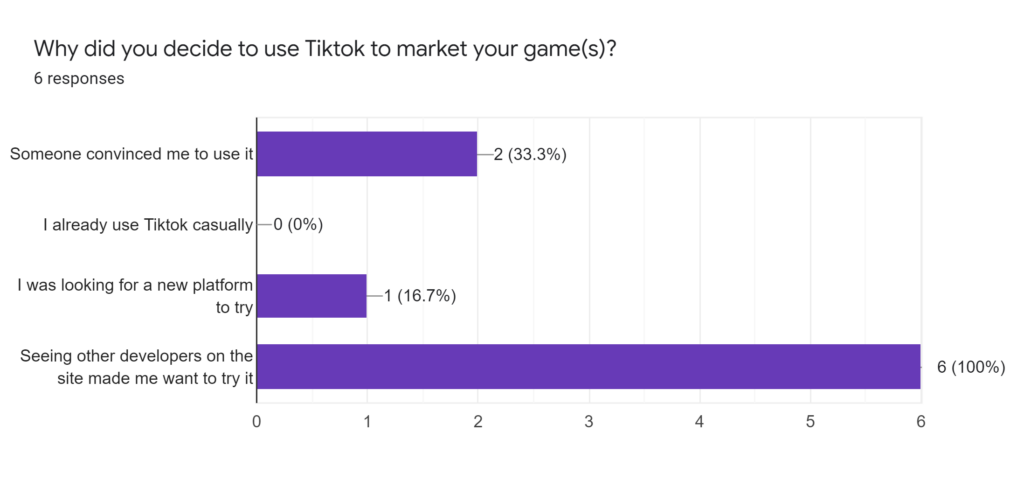 My own answer:
I already used TikTok casually for art and thought there was potential with it for visual novels.
how long have you been using TikTok to market your game(s)?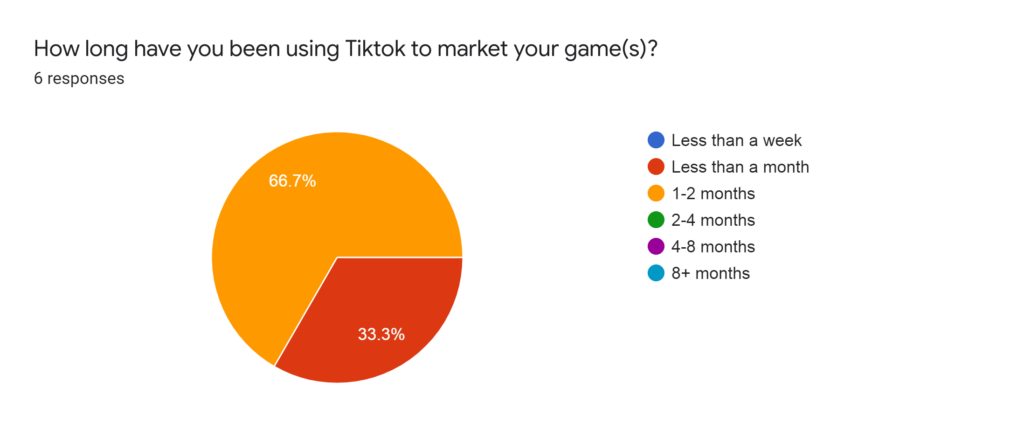 My own answer:
Over a year. I only got the hang of it earlier this year.
did you market a game that's finished or still in development?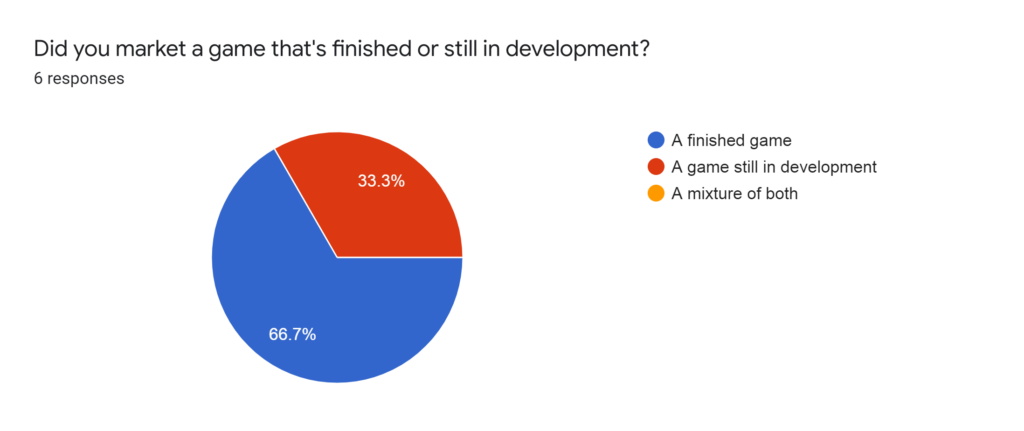 My own answer:
A mixture of both. I posted about already released games like Asterism and A Pinch of Magic and showed the process of making Crimson Waves on the Emerald Sea while making it.
what types of visual novel(s) did you market?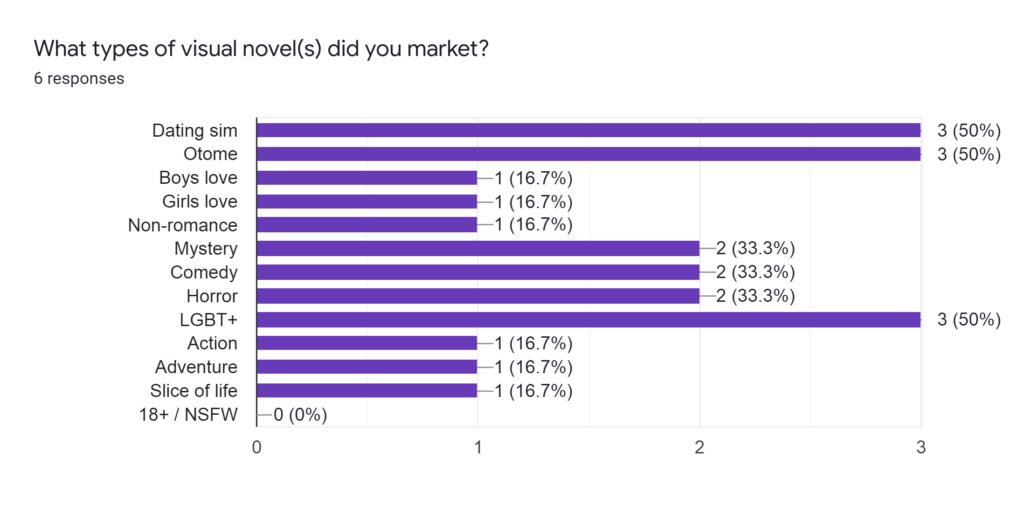 My own answer:
All of the games I marketed were LGBT+ in some form. Some were dating sims (A Pinch of Magic), some where action (Asterism), etc.
experiences with TikTok – part 2
Now that we've seen some stats on the different projects by the developers who've helped me with this article, let's take a look at some longer, free-form answers.
which videos of yours have performed the best?
Carrot, developer of Our Wonderland, had 3 videos go over 10k views and a few more hovering around 6-8k views at the time of the survey. They had this to say about the video performance:
Basically everything that's gone higher than 3K or so have been silly meme-type posts. Well, most of my videos are silly meme-type posts, but specifically just the random ace memes did the best—anything that was more relatable and that didn't require much context. Since I'd started browsing other ace videos on TikTok to research, I picked up hashtags mostly from them, just using ones like #asexual #acetok and #lgbt. I also always throw #visualnovel in at the end just because as I want to keep it at least somewhat evident that it's tied to a game.

Carrot
Another dev, however, had a different experience.
The first video, at 593 views. After the first few videos, I so far haven't had any videos break 500 views – posting every single day.

Quilly, developer of Death Becomes You
Posting daily on social media is good for gaining views—if your team can handle the output and commitment—but there's clearly more to TikTok than just posting daily.
For myself, I've already linked my most popular videos on both accounts in the how do I post about my visual novel in under 30 seconds with video? section.
what do you like about TikTok?
[I]t's the only platform I've seen that makes it possible to get your content out there even to people that aren't actively searching for it. On Twitter, for instance, I've found it very difficult to grow quickly as people are never going to be just randomly searching for anything that would have them land on content from me or my game. But on TikTok, if you create something that works well with the algorithm, your content will get pushed to tons of people for you (whether they like it or not, in a way, lol). This makes it really effective for the awareness stage so long as you can figure out how to make content that will be pushed.

Also the general silly nature of the platform is kind of fun. And admittedly it's always kinda heart-pounding and exciting when you have a video start to take off. It's given me some entertaining evenings.

Carrot
Several of the other devs answers were as followed:
Free growth, easy to create content, no previous fanbase required.
Easy to find people, like a vlog platform, real chance to go viral.
I like the video editing options, and commercial audio section.
Like what other devs have said, I like how easy it feels to reach your audience as opposed to sites like Twitter where most people who follow you will be in the VN industry. The video editing options are also great, though I prefer Capcut for editing videos on mobile.
what do you NOT like about TikTok?
Like any social media, there's going to be some blatant major downsides to using the platform. Here's what some of the developers said.
That it prefers local content over relevantly tagged content on the for you page. It means a lot of our Otome games get shown to people who aren't interested just because they are local.

Corynth, developer of Christmas Otome, Halloween Otome
To further clarify—TikTok shows your videos to your followers, but for non-followers it shows people around your geolocation. If you live in America, it will show your video to other Americans. If you live in Japan, it will show your video to other Japan residents. This is regardless of what language your videos are in or what tags you use.
We'll talk about the ramifications of this later on.
The algorithm can be a bit frustrating sometimes. I've had a few videos that were never pushed to the FYP for no apparent reason (one I believe was too short, but if a too-short video causes this problem it should be stated somewhere! lol) and another that wasn't too short but still didn't for reasons I just don't know.

Basically, no matter what I do, I'll never be able to toss videos at my actual target audience, which is also frustrating. So I've pretty much had to resign myself to the fact that my TikTok will never be much more than just something I do for fun.

Carrot
Learning what 'works' is a lot of trial and error, but is to be expected when you join a new platform.

Courtney, marketer for Snowhaven Studios
Hard to figure out what will do well, always feels like playing roulette.

Crysil, developer of Deliver Us From Evil
The "easy" virality has a flipside—if it were extremely easy to crack, then every corporation would've moved all their efforts to TikTok. There are clear ways to gaining more views such as starting with a hook, keeping the video under 20 seconds, etc., but sometimes TikTok just doesn't push your videos out.
Every video has a chance to go viral, but sometimes a video will flop for seemingly no reason.
how do you prefer to record your videos?
Every one of my videos I've just done using my phone camera using the built-in TikTok editor.

Probably if you needed to record and edit your videos on your own with external software, I would never have even tried TikTok to begin with. But because it makes it so easy to just record your screen and make janky but fun videos, it made it so even someone like me could give it a try.

Carrot
I also record almost all of my videos with my phone. I usually record through Instagram Reels—the video quality isn't as good as recording through the regular camera app, but the file size is much, much smaller. I record several different clips that I can reuse for videos.
Some of my videos are entirely made up of prerecorded footage for older videos that I cut together, like my viral video for Crimson Waves on the Emerald Sea.
what hashtags do you typically use? have you found some to be better than others?
3-4. Using more is bad, and using none is also bad, from personal experience. Using too broad can be bad, using too niche can also be bad. Don't try to create your own hashtag. And don't use too broad one like "gaming". I just go for normal ones like datingsim, visualnovel, gamdev, indiegames

m., marketer for Tsundere Studio
I've tried a variety of different hashtags. In the beginning when I was experimenting with a lot more different types of videos, I would change them up more based on the content, things like #visualnovel, #indiegame, #horrorgame, #pixelart, etc. Then when I switched almost fully over to stupid ace memes, I now always use the same set of four hashtags, which is #asexual, #acetok, #lgbt, #visualnovel

Carrot
For myself, I use between 4-6 usually. I almost always try to use #visualnovel unless it's something absolutely unrelated. I also play around with tags like #indiegames, #anime, #animegame, and variations.
On my viral video for Crimson Waves on the Emerald Sea, I used #anime #visualnovel #indiegames #victorianaesthetic #animegame. On the viral Nintendo Switch video for Heart of the Woods, I used #visualnovel #wlw #gl #indiegames #yuri.
how do you get ideas for new videos?
On my personal account I try to follow trends and see what is popular. Otherwise I treat it as sharing details about the game or development.

Courtney
Most people tend to follow trends, I generally just think of what's funny or interesting to me personally, also looking at what videos of mine haven't done well or did well.

m.
Sometimes I'll look through all my game images or art that I've done to see if it'll spawn any ideas. Sometimes I'll just think up a new joke or idea while doing something random, like watching a show or listening to a song. Some of them originate in memes I've seen elsewhere that I've expanded upon.

Carrot
I look at other devs and note down cool sounds. Also [any] events that have happened in development e.g new content or a bundle.

Crysil
For myself, I'll scroll through TikTok for inspiration. Sometimes video ideas pop in my head, but I usually either try repurpose posts from our other social media into video ideas or I'll look around on TikTok for funny audio.
how do you come up with a hook for your videos?
Something quick and punchy and immediately interesting. Usually a specific question, or a challenge, or a prompt. A joke setup can also be effective, when you're just presenting something. "Here's this thing, look haha" Being too specific, or needing context will ruin your videos.

m.
I just try to think of something funny. I don't necessarily think about the hook itself—I just come up with a funny scenario or joke and try to make sure the setup feels like it's interesting and going somewhere even on the very first frame of the video.

Carrot
I try to think of what I'd find interesting. What assets/visuals would be most intriguing for the viewer. I also check out other videos with similar hashtags for inspiration and seeing what is successful for others but within reason and the commercial music library.

Courtney
For my own videos, I try to imagine the first 1-3 seconds that a user will see when scrolling by on their FYP. What's the text that they see, the sound they hear, the visuals they're presented with?
what do you think the ideal length for your videos is?
Somewhere around 12-15 seconds. Any longer, you start to lose people, any shorter and it's not engaging enough.

m.
7 seconds.

Crysil
Not too short and not too long. Too short and the algorithm won't pick it up apparently. I had one video I did that was under 4 secs and it sat at zero views for days until over time, some followers or people that clicked on my profile have slowly given it some more views.

Too long though and it also tends to not perform as well, as usually that means a lower watch percentage. For that reason, I usually shoot for somewhere between 6 and 10 seconds, with 7-9 being around the sweet spot.

Carrot
Similar to what other developers wrote, I try to keep my videos under 15 seconds, with 9-12 seconds being my sweet spot.
Longer videos on TikTok can do well. For example, this game dev video is nearly 3x the recommended length at 41 seconds long but has over 13 million views and 2.7 million likes.
However, longer videos usually take longer to create. When you're first getting started with TikTok, focus on iteration rather than polish—that is, create shorter videos to get a feel for the platform and refine your pitch. Once you have a clear hook that people love, branch out into longer form videos.
(if you don't live in the US) have you had any problems with TikTok's localization?
Yes, and it's the reason I think TikTok will never actually be super effective for me. I'm a U.S. citizen, but I live in Germany, and the stats for my videos are always 40-50% Germany, with the second-places countries usually being something like France, Poland, or Belgium. My views seem to fan out from Germany at the center. Even my best-performing videos with 40K-ish likes have not been able to break this barrier and get any further. And I've yet to get into a single English-speaking country, which would be my target audience considering my game is in English and I only post in English lol.

I feel like this may be the reason I've found it harder to get followers, too. Despite getting a lot of likes, my follower count goes up very slowly. If I had to guess, a German-speaker might watch a video and find it funny or entertaining enough to like, but not generally be invested enough to follow an English-only account.

Also re: the localization aspect, it required me to do a lot of experimentation on posting time because none of the suggestions from others worked. When I first started posting videos, I tried to follow the 8 a.m., 2 p.m. PST suggestion. I quickly realized that wasn't going to work because my videos aren't shown to anyone in the PST region! So then I switched it up and tried converting those times to local German time, instead. Well, that didn't work either. Finally, after a few days of trying at different times (and also noting when I tended to get more passive views on older videos), I found that the best time for me to post was between 6:15-6:30 p.m. CET (German time), so now I always post around that time. This will usually get me around 80-180 views within the first hour when it's sent out to followers, and then if it does decent in that first stretch, it'll start jumping up in larger increments after that.

Basically, if you're in another country, you'll need to do more trial-and-error to figure out the best time.

Carrot
Yes, it will tend to show the videos to people in my country which usually are not the main market audience. It does expand the audience if a clip gets popular though.

Corynth
Two other developers use workarounds to fix this.
I use the modded app.

m.
No, I just use a burner android phone.

Crysil
(Note that all 4 of the developers above do not live in the US)
what's something about TikTok you wish you knew before you joined TikTok?
We tried a few videos using the non-commercial music library and the videos performed way better. But, to avoid legal issues we swapped to the commercial one and they took a drastic dip. Just something I wish I'd known and prepared for.

Courtney
To elaborate more on what Courtney is talking about—there's 2 main types of TikTok accounts, a Business account and a Personal account. Business accounts can have a link in bio but are restricted to commercial sounds. Personal accounts have to have 1k followers before they can have a link in the bio but they can use any sound/music.
Trending audio can be a great way to reach more audiences, so take into consideration that you won't be able to use them if you set you account to a Business account.
USE THE PREVIEW FUNCTION, I've had tons of videos with the captions ruined because I didn't realize the description and tags cover it up

m.
[M]ore info about generally how the algorithm works, things that can lead to you not getting pushed to the FYP (so you don't have to discover them yourself), more insights into that beginning push when you first make an account and are trying to get views but you feel super discouraged because they're not going anywhere, things like that. Carrot
You can repost stuff you find via For You page which can help to boost other indie Devs.

Corynth
For myself, I wish I focused less on spending a lot of time on a single video and more on iterating. I wasn't used to video creation—I'm still not—but trying a bunch of different ideas and setups helps you become better faster.
I also wish I knew that the watch time was one of the biggest metrics for deciding if your video gets pushed out more. Engagement is great, but if people don't watch the video to the end then your video won't be pushed out further.
do you have any tips for someone who doesn't have much to show from their game, or doesn't have much game art?
I feel like you don't actually need a LOT of art to start making videos. I tend to use the same pictures of my characters for every other video I make because they're the ones easiest to put into random situations and make jokes out of, so you don't actually need a wide variety if you have a few ones that tend to work.

Carrot
I definitely agree with Carrot here—you don't need a lot of artwork to make videos. A lot of viewers are still at the awareness stage of your project, so reusing art assets isn't terrible.
In fact, this video by Two and a Half Studios received over 32k views and over 4k likes by just scrolling through their itchio and Steam pages.
Engage in your community, even if you can't create content, you can create discussion or use other content to fuel said discussion. This will help you get onto the habit of creating or engaging as well as get you on the algorithm.

m.
how would you describe your style of videos?
This is a more fun/casual question for the developers that I wanted to ask to give you an idea of how they perceive their videos.
Silly and stupid LOL. … Basically, if it cracked me up, I made a video hahaha.

As I … started to turn my focus to the ace aspect of the game and began making shitposts specifically around this and the ace experience, I finally started to get some traction. So then I started to create more ace-specific shitpost vids, even if the jokes themselves weren't relevant to the game. [F]rom there on out, my style was pretty much solidified, and I just kept at it with this style.

Now that I've got that initial traction going, I've also begun to start slipping more game-focused videos in there in between my shitposts, and they've finally started garnering me some actual game interest, which has been great.

Carrot
Trying to lean into comedy and shitposts because they tend to do better. Although this is partly a result of it being shown to an audience that isn't necessarily interested in or aware of Otome games.

Corynth
Comedic, funny. Very shitpost-y.

m.
Probably fairly dry? [T]hey are more serious than silly.

Courtney
As you can see, not everyone focuses on shitposty, memey videos. I consider videos on my own studio to be very casual, maybe even somewhat relatable to other people who have original characters and want to bring them to life.
---
wrap-up, part 1
Now that you've heard from various visual novel developers who've used TikTok, let's recap.
Visual novels are booming on TikTok. Developers have become creative with ways to express and showcase their projects, leading to massive success for some and a slow, quiet grind for others. With just a phone, some artwork, and a lot of experimentation, it's possible to get hit TikToks like these.
some parting words & advice from the developers
I think TikTok has potential for in-development games instead of full releases. Like, sharing in progress might be more interesting than showing a released game and thus, create a following. We're planning on using TikTok for our upcoming releases to show more 'behind the scenes' to see how it performs over our other videos.

Courtney
I mentioned this earlier, but I'm still not sure TikTok will ever be super effective for me as far as getting people to my game, simply because I'm always fighting against the localization stuff and can't get into any English-speaking locales for my English-only game. However, I have at least been able to get some hits as a direct result, which has been nice. On my referrers on itch, for instance, I can see that TikTok has definitely given me some more views. Before getting traction on TikTok, I didn't have any search engine referrers or any from people manually searching the game on itch.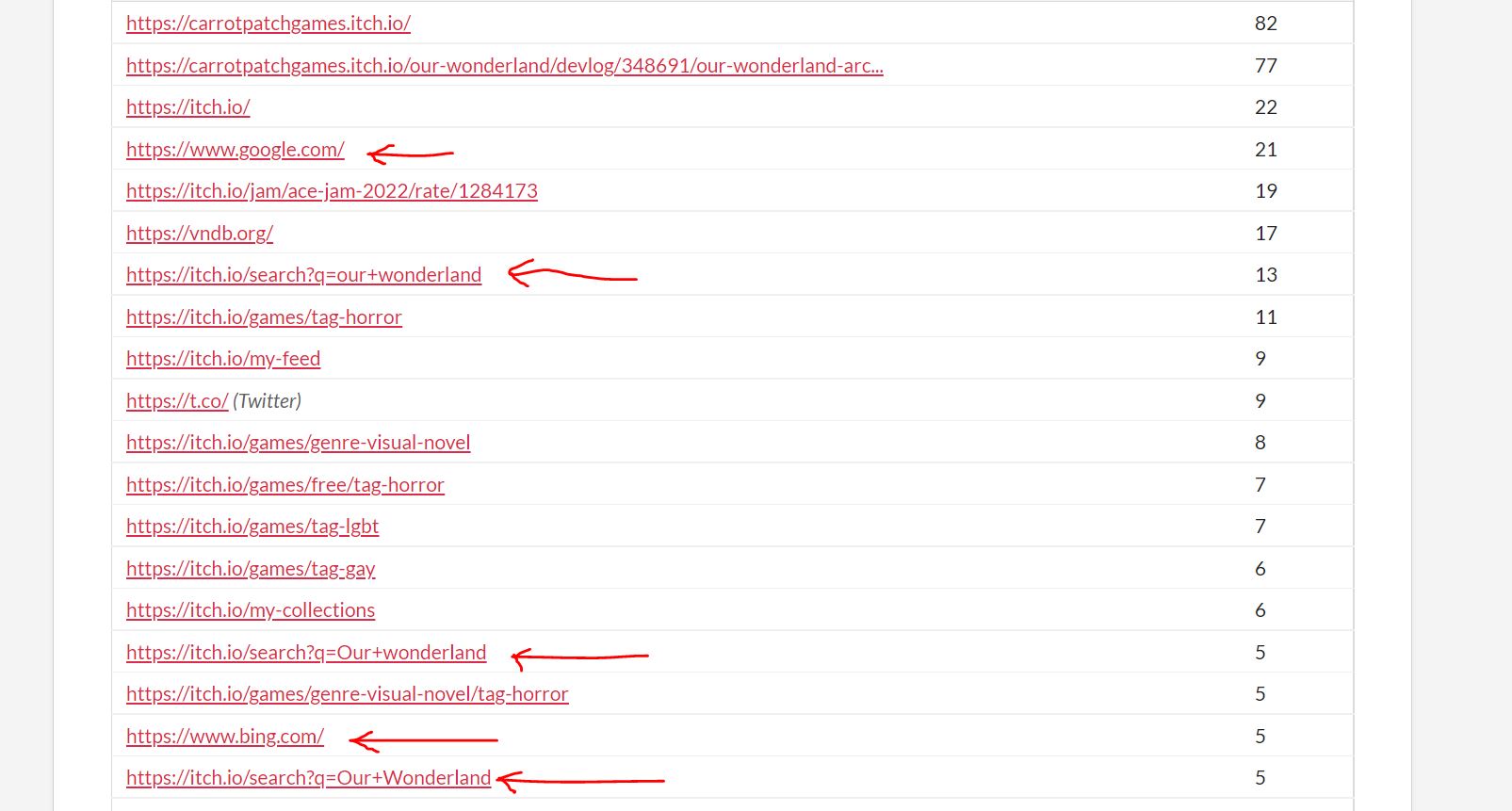 I think it can be a fun and exciting platform to use especially to try and get some awareness because of the way the algorithm works, but it does also require some luck, especially in the beginning, to get something that will eventually stick, as well as a knack for consistently coming up with good and funny ideas you can get across in a manner of seconds. I think generally if you just keep at it and keep trying to throw stuff at it, you'll eventually start to get at least some traction. But whether or not that traction will build into something huge depends a lot on the type of game you're marketing, the type of content you're able to make about that game, the innate appealing factor of your game's art, your target audience and locale, your ability to keep coming up with new content and your motivation to keep trying even if things aren't working, and also some sheer luck!

I'm personally pretty happen with what success I've had on the platform so far, as it's gotten me more eyes than anything else I've tried so far and also just been entertaining and given me some laughs along the way. Also, I like the fact that once you get a nice body of videos out and have that initial traction, you'll continue to get likes and views trickling in on all your videos. So for this reason, I feel like even if I do start taking more days off in the future, I'll still always be getting some eyes on my stuff, which is a nice feeling (compared to Twitter, for instance, where after a few days your posts become dead in the water).

Carrot
Advice for people that don't use it yet: "stop making excuses and use it already"

Advice for people that already use it: "It's a numbers game – learn, adapt and try new things, you are literally guaranteed success if you just keep trying."

m.
Just use it 😂

Crysil
do you think TikTok has been or will be an effective tool for marketing your game(s)?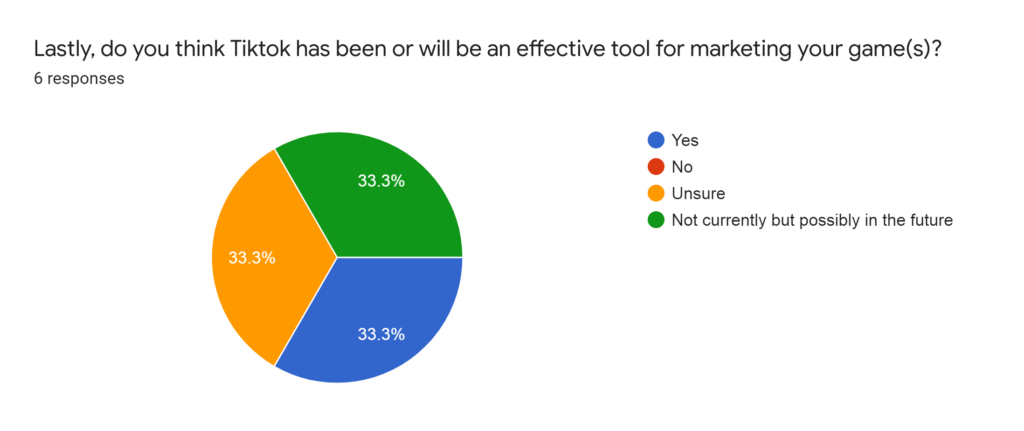 Personally, it has been for me. Both Crimson Waves on the Emerald Sea and A Pinch of Magic received a spike in downloads and social media buzz immediately after their respective viral videos. TikTok is also great for passive views, so even if I take a couple weeks off I know my videos will still be shared and I won't be "penalized" by the algorithm for not posting daily.
tl;dr
Don't be afraid to try new things. You never know what will take off.
Keep videos between 7-12 seconds when starting out. One idea per video—make it snappy and don't keep people waiting too long. When you can pinpoint the appeal of your game, you can expand to longer (20+ second) videos.
Have high engagement but not many views? The total watch time per viewer is a very important metric to TikTok's algorithm.
Don't spend very long making each video. You're not a corporation, you're an indie dev—don't try and make the most polished video ever.
Take time to look over your own content, artwork, upcoming events, and more for ideas. Look for popular audio and trends as well.
Be aware of how TikTok shares videos in your region first if you're in a country with speakers who don't primarily speak the language your game is in.
With only 150 characters in your description, you need to know who your audience is.
---
wrap-up, part 2
Pretty sure this is my longest article to date! Thank you if you've made it to the end—I hope that this was insightful, or at the very least has helped you move in the right direction with your marketing plans.
All in all, I think TikTok can be a great asset to a marketing strategy when used properly. Note, I say an asset to your marketing strategy. No single social media platform should be your entire marketing plan—rather, the sum of your social media platforms are a subset of your marketing plan. Your plan should also include some kind of long form, owned media such as a newsletter or forum, as well as other parts such as your branding, your store pages, and more.
If you're new to marketing concepts, I recommend checking out my fundamentals article, where I talk about branding and audiences.
Again, thank you for sticking around this long! If you're a visual novel developer and want to meet other devs (or want to ask me questions), feel free to join Devtalk, the second largest server for VN devs.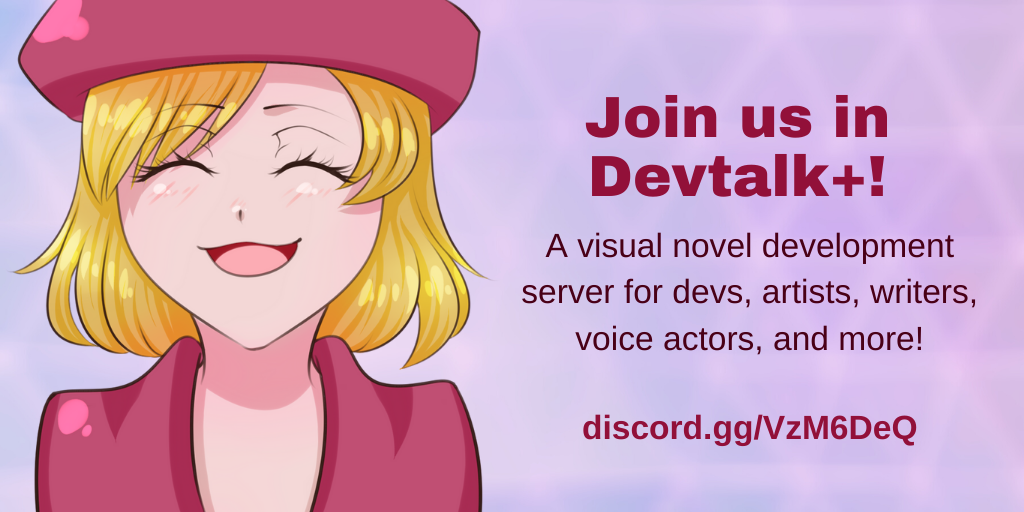 — Arimia