2019 has been a pretty good year for me! A lot happened and I've met a lot of great people. I'm terrible at remembering things and even worse at remembering things in order time-wise so I'm going to just list some cool things and talk about them- if they end up in sequential order, cool!
Entered several business competitions (and won some!)
Got a job on campus at the business school
Released Paths Taken, Alice in Stardom, Image of Perfection, and Memories on the Shoreline
Had an interview on Forbes
Started doing PR for Studio Élan
Started my senior year of college
Full Releases

For the first full release of the year I released Alice in Stardom, a yuri visual novel made for NaNoRenO. It had by far the biggest team I've managed with at least 8 people working on different aspects of it. It was hectic but it was fun, and I hope I'm able to do another NaNoRenO entry this year (granted, I didn't do much of the actual work on it besides some scripting and directing)! Overall it was fun and the team was great!

A short time after Alice in Stardom, Paths Taken finally (finally…) finished development after a few road blocks and halts. It didn't come out how I envisioned it when started but I'm happy it's done. I fell into a bit of a depression once it came out since I felt I hadn't delivered anything people wanted since it fell short of what we wanted it to be, namely story-wise. Still, I'm thankful for everyone who's played it and enjoys it!

This year I focused more on experimenting on mechanics and VN game types, trying to figure out what people wanted to play and what I wanted to make- finding a sweet middle ground between those two. Image of Perfection was a project written by a friend, Omega, as both a way for me to experiment with a small horror-esque RPG and for her to work on a full project. I think the game came out fine, though I was under a fair amount of stress (due from Paths Taken having just wrapped up, RPG Maker giving me a ton of problems- basically myself causing my own problems).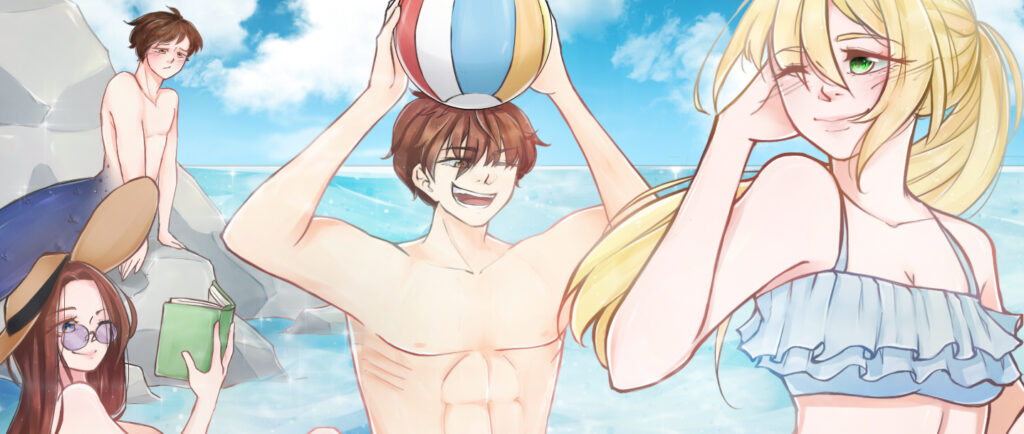 Onto the last release of the year, Memories on the Shoreline! As with every project, I learn at least one thing and regret two more. But really, my only regret with this project was not giving it more time. I say that, fully knowing I was spent on time during the development of it, as the semester was wrapping up and I was (and am) working two barely part-time jobs.
As before, I was not the writer on this project, that was instead the talented Keiru! We met on Discord and it just so happened she was lovely to work with. I don't have much else to say for this one… I want to add an additional scene to the game sometime in early 2020, so look out for that. As you can see I didn't do the artwork, only character designs- the sprite artist was ChocoBerryInk! (personally, I think their sprites came out super cute)
---
I didn't really set any definite goals last year for myself other than "release more games" and "learn more about marketing", and this year will be somewhat the same.
Draw more full art: I want to get back to doing more full pieces! Nothing dramatic, just trying to draw faster by doing one fanart or original piece a month or such.
Sketch traditionally occasionally: My aunt gave me a sketch book for Christmas, so I might as well use it. I'm actually unable to draw half as good traditionally as I can digitally since I just don't draw traditionally anymore, so this'll be a good way to get back to that.
Release Asterism: Not much to explain here. Asterism will be in development for 3 years come this February, it's time for a release.
Slow down a bit on projects: Last year from April-November I was releasing a full game almost every other month. I have a lot of ideas for future projects after Asterism (some of which have already been started) but this year I want to spend a bit more time involved in the dev process of each game.
Graduate college: Last but not least, this is my last semester of college! By May I should have a Bachelors in Computer Science.
There's a few more goals like "learn more about marketing" and "meet new devs" but these are the ones I'll be focusing on the most. Thank you guys for your support, I hope this is great year and decade for all of us! ♥